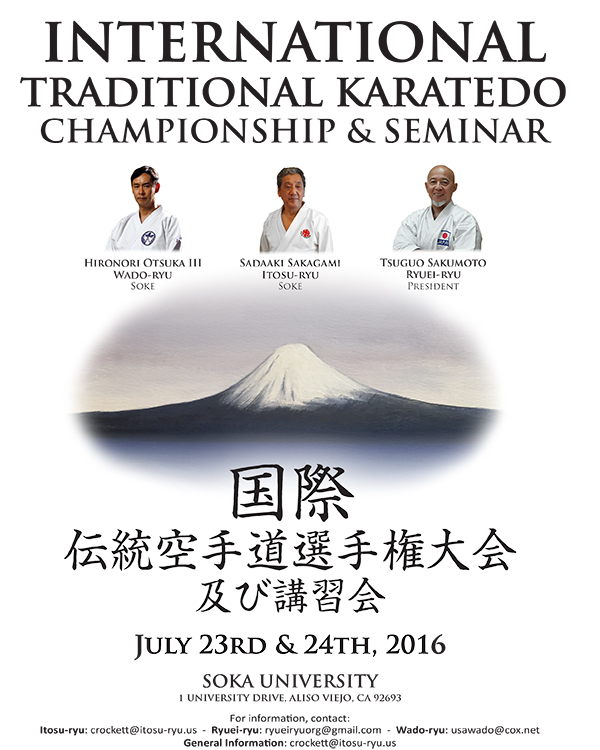 Date: July 22nd, 23rd, and 24th 2016
Location: Soka University & Hilton Costa Mesa
Hosted by: Ryuei-Ryu (Arashiro Sensei), Wado-Ryu (Nishimura Sensei), and Itosu-Ryu (Crockett Sensei)
Cost: $50 per competitor (includes all divisions)
KATA
Qualifications: To enter the Ryuei-Ryu, Wado-Ryu, or Itosu-Ryu divisions, the competitor must be a member and in good standing.
Open Division: All competitors and styles welcome. Wado-Ryu, Itosu-Ryu, and Ryuei-Ryu members may also compete in open division as well as their own style.
KUMITE
All styles and competitors welcome. WKF modified rules.
SCHEDULE:
FRIDAY JULY 22ND:
– 12-7PM Check-In
– 5-7PM Welcome Party Everyone welcome (no charge)
– 7-8:30PM Officials Meeting
SATURDAY JULY 23RD:
– 7:30AM Buses to Soka
– 8AM Officials Meeting
– 9AM-3PM Kata Competition (All)
– 1:30-3PM Demonstration, Finals, & Medals Presentation
– 6-8PM Sokes Seminar Cost $35. All ages and levels welcome
SUNDAY JULY 24TH:
– 7:30AM Buses to Soka
– 9AM-3PM Kumite Competition
– 1:30-3PM Finals and Demonstration
Farewell Party Cost: $30