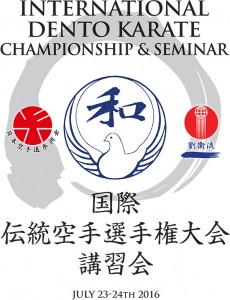 Dear Wado-Ryu Instructors, students and friends,
We are delighted to invite you to The International Dento Karate Championship and Seminar on July 23 & 24, 2016 at Soka University in beautiful Orange County, California.
We are inviting from Japan Wado-Ryu Souke Hironori Otsuka and Kazutaka Otsuka, Itosukai Souke Sadaaki Sakagami and Ryuei-Ryu president Tsuguo Sakumoto. Each of these Masters will hold a special seminar, a demonstration, and followed by a Q&A session.
The tournament invites practitioners of Wado-Ryu, Itosukai, and Ryu-ei Ryu to compete in their respective styles, as well as in the open divisions where anyone from any style can compete.
If you would like more information or if you are interested in becoming a sponsor for this one-of-a-kind event, please contact Shoji Nishimura at usawado@gmail.com .
We look forward to seeing you at this special event.
Shoji Nishimura
President, USA Wado-Ryu Karate-Do