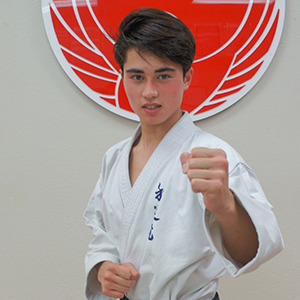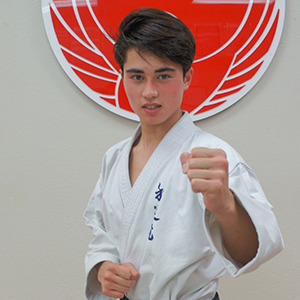 My name is Takazo Hall and I have just passed to the next level of my karate journey by receiving my second degree black belt. I started Karate as an unfocused and unskilled three year old along with my twin brother Kaizo. My older brother and father had been doing karate at that time. I was not a very dedicated Karate student for many years and was often discouraged because Naoto, my older brother, blossomed into a very feared karate fighter, while Kaizo and I were left living in his shadow. I did, however, make many friends and I always had fun attending classes at the dojo. Eventually, I began to dedicate myself to the art when I realized I had a rival: my twin brother.
My twin and I started training a little harder, trying to surpass each other, so our skills improved, but we still were not very good. We progressed through the belt rankings extremely slow and all of our friends always surpassed us. I began to look up to the Black Belts and Sensei and attempted to be like them, through mimicking their attitude, effort, concentration, and movements, but I never thought I would actually reach their level of perfection. Eventually, even my friends, that stuck with karate, started obtaining their black belts each year. This is what really fueled me to try to get my black belt, so after one of my best friends, Richard, got his black belt, Kaizo and I trained extremely hard to get our black belts the next year.
Naoto, our brother who had already been a black belt for many years, started hosting intense training sessions for us at our house, where Kaizo and I often got injured, but got much better, mentally and physically. By the time the Black Belt Test came, Kaizo and I felt prepared due to all of the time we spent training those past 11 years. After passing the Black Belt Test, at age 14, I felt relieved and satisfied, but more importantly, I realized that I was not the weak, unskilled boy that I always viewed myself to be anymore, which was definitely a great feeling.
Wearing a black belt, and doing all of the Black-Belt-only things, had been a dream of mine for almost all of my life, so once I finally got to wear one with my name written on it, it not only made me look awesome, but it also gave me confidence, knowing that I earned that belt. I took this confidence into tournaments and I began placing higher in them, which boosted my confidence even more. I began to be so confident with my Karate skills that I realized that Kaizo and I might possibly be able to surpass our older brother Naoto, who Kaizo and I always dreamed of one day surpassing because he was so much better than us at everything I could think of. Soon, another close friend, Chiara, received her invitation to attend the Black Belt Test for her second degree. Because of this and our drive to pass up Naoto, Kaizo and I tried hard to take the Black Belt Test for our second degrees, which also lead to Richard to want to take the test for his second degree too. Now that "The Squad"(Chiara, Richard, Kaizo, and I) were all going to take our second degrees, we trained hard together outside the dojo so we could all get our second degrees together. Even though most of these training sessions consisted of us flipping Richard for a "dank snapchat story," we were able to strengthen all of our testing material and it reassured me and gave me confidence during the Black Belt Test.
Passing my second-degree Black Belt Test, at age 16, wasn't as revolutionary for me as my first degree Test, but it was still satisfying to know that I am still progressing in my karate training and, at least on paper, have passed up Naoto. All in all, due to training from a highly respectable Sensei, a competitive family, and some of my closest friends, I've been able to get to where I am today.