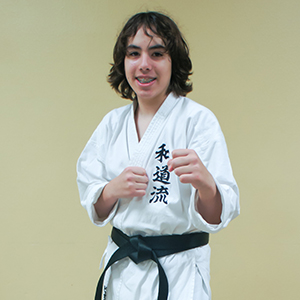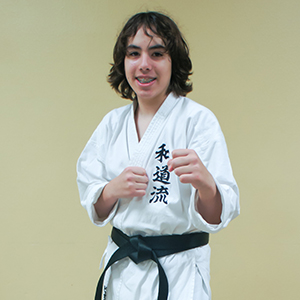 My name is Nicolas Tangeland, I am 13 years old and live in Costa Mesa California. I am currently home schooled in Junior High, but will attend "regular" high school next year.
I have been practicing karate for five and a half years. My dream started when I was 7 years old and I wanted to become a ninja, or the next Bruce Lee! Karate has taught me discipline and focus over the years, making me the person I am today. There are several reasons I wanted to achieve a black belt. First practicing karate, made me feel good about what I have learned throughout my life. Second, it has taught me to be focused and disciplined, which will help me as I grow. Finally, many things I learn in karate can be applied to my future in college, profession and more.
As a kid the coolest thing ever were ninjas and samurai, I kept trying to learn more a more I would even watch hours of documentaries and would dress up as one for Halloween for five years in a row. That was my spark to start karate and to get my black belt, I would do many tournaments and win many. I always strived to be the best and kept going after trial and trial nonstop. Now I compete in the black belt division and it is so much harder to win. In fact, I have not won in a while, but no matter, I will keep improving and trying each time, I will do it the very best I can.
Getting my black belt and competing in tournaments makes me proud and happy.
Karate is a way of discipline and focus. Throughout the years, I have developed to be respectful and disciplined. These aspects will carry out into my life later on, in school and work. Karate is not just a martial art but a lifestyle. Many who chose to do karate have changed to become better people. Having reached my first goal of receiving a black belt will not only prove I am dedicated, but also disciplined and focused on my tasks. I have many friends who I have met in karate and have pushed me hard to become better; like Cael, Dat and Conner and many others.
I will continue to pursue in karate, the black belt is just the beginning of this amazing journey that is ahead. I have seen a lot of people get their black belt and just quit. I always hope they return, because there is still so much to learn and to teach new kids. My first mentors were Kengo and Jay, two of the coolest people I have ever met. They are black belts and have taught me to always keep on going no matter what, and I will live up to that.
Being a ninja or a samurai is a fantasy dream for many kids but the one who really put me on the right track was my dad he, was the one who brought me to Wado Ryu karate and has been the one who has cheered on saying I can always do better and can be the very best. Thanks also to sensei who has made me the person I am today from practicing is the dojo and always helping me improve. Discipline and focus is karate's most important message and has helped me improve in school and more. Karate as a lifestyle and has changed me so much to a better fighter and a better kid, I wish to keep on going and explore karate more in depth, which will expand my knowledge.
I would like to thank everyone that have supported me over the years and I look forward to many more years of karate.